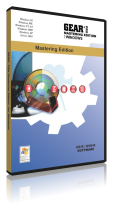 GEAR PRO Mastering Edition 8.10
Platform:

Windows 10, 8, 7, Windows Vista, XP
Convert CDs and DVDs to DDP images

New!

Burn DDP Images to CD-R/DVD±R
• Dual layer and CSS images are supported

New!

Copy discs to multiple devices
• Now with multiple copies per device
Record a GEAR Project to multiple drives
Automate routine tasks
Control file system formatting
Please submit this form to determine your upgrade options...
File Size: 17.6 MB
License: Free 15 day demo,
$599.00
to buy

Download 15-day Trial
The professional's choice for complete CD and DVD replication and mastering!

Convert CDs and DVDs to DDP images
Deliver your master to a replication facility via computer or network drive, or FTP the image.
See how
...

New!

Convert DDP images to CD and DVD discs

Burn your own 'Check Disc' before sending off to replication

See how

...

New! Burn Disc Images
Use GEAR PRO Mastering Edition 8 to burn .iso images to multiple recorders similtaneously!
With multiple copies per device
See how
...

Duplicate CDs and DVDs
Create inexpensive duplication workstations to accurately format masters for fast mass replication. Match your master precisely!
New! Now with multiple copies per device


Record a GEAR Project to multiple drives
Record one or more GEAR Projects to separate drives simultaneously
See how...
Powerful Multi-Tasking
Record to two or more drives at the same time!
Add DVD burners to your PC, use your PC as a disc duplicator.
Easy Disc Copy button, with ability to copy from any CD or DVD drive to any burner.
Copy one to many using multiple burners!
Copy discs perfectly, even with only one drive.
Work on a new project while you burn CDs and DVDs.
Support for the Latest Formats
Burn DVDs, including DVD-9 (dual-layer) titles to DVD+R Double Layer (DL) recordable media. GEAR PRO Mastering Edition gives you total, accurate control over the layer break setting for DVD-Video projects for optimal disc layout and reliable playability when burning.
Total accurate control over the layer break setting for DVD-Video projects for optimal disc layout and reliable playability when creating DDP images used for glass-mastering.
Accurate import of any authored DVD-Video title.
Add ROM content to DVD-Video titles.
Master high definition WMV-HD titles!
Create bootable CDs or DVDs.
CD-Text creation and editing.
Creating large CD-ROM or DVD-ROM titles? New "offline formatting" creates disc file systems optimized for indexing disc projects containing large numbers of files. GEAR's standard virtual formatting is also available, optimizing the file system for fast individual file access.
Support for recording files larger than 4 GB (with UDF only).
Easy to Use
Easy audio ripping! Rip CD audio tracks to .wav, .mp3, .wma, .ogg, or MPEG audio. Rip the entire disc, or selected tracks. Control bitrate, bit depth.
Automatic CD-Audio artist and track title identification using FreeDB.
CD-ROM data formatting for CD-R(W) media, with the choice to format into ISO 9660, CD-ROM XA or CD-ROM ISO/UDF hybrid format (OSTA UDF compliant), and Mixed Mode.
DVD-ROM authoring with complete control over every aspect of the file system, including ISO, ISO/UDF, or pure UDF.
UPC-EAN and ISRC codes can be assigned to the audio tracks.
Adjust pause between audio tracks.
Copy CD+G, CD-text audio CDs. *Note: You must have a recorder that is capable of reading AND writing subcode information in order for this function to work.
Audio editor allows you to trim, fade, edit, or normalize audio files.
Audio CD creation, with the ability to import Wave (.wav) and decode MP3, OGG, WMA, or MPEG audio files.
Disc information tool shows detailed format, volume, session, and track information for any CD or DVD.
Easily add files and directories to your CD or DVD... just drag and drop. Choose to back up all files, or only files that have changed since the last backup.
Reliable Professional Features
Write DDP images to hard disk, DLT, Exabyte, 4 mm. (DAT), or through FTP directly to a disc replicator.
Write DVD masters flagged for CSS encryption.
Convert CDs or DVDs to DDP image quickly and easily.
Control CD or DVD Jukeboxes.
Restore files to hard disk from DLT, Exabyte, or other tape drives.
Verify every recorded disc 100%.
Support for Joliet and Rockridge ISO extensions.
Import and burn DVD-Audio disc images.
Appending data to multisession CD's, with advanced append options.
Track-at-once and disc-at-once recording methods. Session at once, manual fixation, Burnproof, Justlink, and overburning are also supported.
Incremental Packet Writing allows quick, flexible data storage. Support for fixed and variable packet writing.
Format, full erase, and quick erase CD-RW, DVD-RW, and DVD+RW media.
Save, import and burn physical image files, such as ISO files.
GEAR PRO's powerful scripting feature allows you to create GEAR batch files, which can automate repetitive tasks, or allow GEAR to be called from external programs, such as custom scripts or schedulers. GEAR PRO also allows you to run any GEAR command manually from a Command Line Interface. These powerful commands allow for extended functionality beyond what is available through the graphical user interface. Access the world-renowned GEARWorks CD and DVD recording engine directly through GEAR PRO!
Supports all CD and DVD drives and recorders (burners) on the market today, through any drive interface.
Runs on Windows 7/Windows Vista/XP.
GEAR's recording engine is installed and running reliably on millions of PCs around the world.
GEAR's updated drivers and device configuration files are always available for free download.
GEAR's support staff is always available to help you through our Support Forums, or directly by e-mail.
Name
GEAR PRO Mastering
Version
8.10
System Requirements

Processor: 500MHz AMD or Intel processor*
Memory: 128MB*
HDD: 25MB free disc space
OS:

Windows 10
Windows 8
Windows 7
Windows Vista
Windows XP SP2
Windows Server 2003

Recorder: Fully compliant MMC compatible CD or DVD Recorder
Tape: Standard DDS, 8mm, Exabyte, DLT or other QIC 167 compliant tape drive
Media Changer: Any ANSI jukebox model compliant SCSI Jukebox/Media Changer

*The minimal requirements of the system may exceed the requirements of GEAR.
Recordable Formats

Redbook compliant Digital Audio discs with CD-TEXT
Yellow book compliant Mode 1 CD-ROM data discs
Yellow book compliant Mode 2, Form 1 CD-ROM XA data discs
Yellow book compliant Mixed Mode discs (Data + Audio)
Orange book compliant Multi-Session discs
Orange book compliant Fixed and Variable Packer Written discs
DVD-Forum compliant DVD-ROM read only discs
DVD-Forum compliant DVD-Video read only discs
DVD-Forum compliant DVD-Audio read only discs
WMV-HD Video Discs (with or without DVD-Video)
Blu-ray data discs

Compatible Media
CD-Recordable, CD-ReWritable, DVD+R/RW/R DL, DVD-R/RW/R DL, DVD-RAM, BD-R(E)
File System Formats
ISO9660 (with Joliet and/or RockRidge)
ISO/UDF Hybrid
Pure UDF
Image Input Formats
Single track Mode1 (.ISO) & Mode 2 image files
Image Output Formats
DDP 2.00 Premaster Images:

Single track Mode1 (.ISO) and Mode 2 image files
Compact Disc Digital Audio (AudioCD)
Enhanced CD (Multisession AudioCD + XA Data Session)
DVD-Video flagged for CSS Encryption (using pre-flagged VIDEO_TS)

DDP 2.10 Premaster Images:

DVD-Video flaggged for CSS Encryption using Vob Location Table (VOBTABLE.DAT) method

Audio Input Formats
MP2, MP3, WMA, OGG, WAV
Audio Output Formats
MP2, MP3, WMA, OGG, WAV
Video Input Formats
NA
Video Output Formats
NA