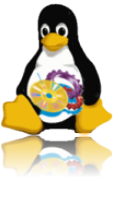 GEAR PRO Linux 5.20
Platform: Linux Kernel 2.4 +
As the most comprehensive DVD/CD-Recording software package for professionals, GEAR PRO Linux incorporates the latest DVD/CD-Recordable technology for:
Imaging, Mission Critical Archiving
CAD/CAM and Graphics Storage
Title Development, and Pre-master Testing
Interested in our Linux Software? To purchase GEAR PRO Linux, please contact sales@gearsoftware.com
Fill out this form, to receive a demo copy of GEAR PRO Linux
Professional CD and DVD Recording Capability

Command-Line and Graphical User Interface
Use the command-line interface for direct control, or the GUI for quick drag-and-drop projects.

Duplicate CDs and DVDs
Create inexpensive duplication workstations to accurately format masters for fast mass replication. Match your master precisely!


Automate routine tasks
Automate repetitive tasks and unattended recording jobs by using command scripts or batch files.


Index disc projects with many files
Optimize the disc file system to index projects with many files. Access files when you want them.
Functionality:
Back up mission-critical data to CD and DVD media
Pre-master audio, video, software and game titles
Archive graphics, databases, email, third-party generated data files, music, digital photos and video
Create cross-platform discs compatible with Windows, UNIX and Mac platforms
Replicate DVD and CD discs using a jukebox
distribute documents, marketing materials, and other data on a CD or DVD
Copy non-protected DVDs and CDs
Extract content from CD and DVD
Use the media in your CD or DVD recorder for near-line incremental storage
Key Features:
Supports all current Linux kernel releases
Creation of CD and DVD images for all industry standard disc types including CD-Audio, CD-ROM, CD-XA, Enhanced CD, DVD-ROM, DVD-Video and DVD-Audio
DVD mastering capabilities for both single and dual sided discs
Physical format support for mastering DVD-5, DVD-9, DVD-10 and DVD-18
Able to format discs using ISO9660, UDF (Universal Disc Format), Rockridge and Joliet file extensions
Comprehensive CD and DVD recorder support for all industry standard media types including DVD+R/RW, DVD-R/RW, DVD+R dual-layer, DVD-RAM, CD-R and CD-RW
Support for DLT, Exabyte, and DDS/DAT recording devices for creating DDP (Disc Description Protocol) master tapes
Conversion of CD and DVD discs or projects to industry standard DDP 1.0 or 2.1 images for professional disc mastering
Jukebox and autoloader management for in-house mastering, unattended disc replication and multi-disc recording of large data sets for disc duplication
Batch file scripting capability allows for unattended recording or backup operations to CD and DVD
Support for links, pipes, device special files, etc with permission and group handling
Complete command and message-logging capability provides for documentation, post process diagnostics and improved error resolution
Easy to use Graphical User Interface
Formatting:
Supports all CD and DVD formats including CD-Audio, DDP, CD-ROM, CD-XA, Enhanced CD, DVD-ROM, DVD-Video and DVD-Audio
Provides DVD mastering for single or dual layer discs
Allows the import of DVD-Video disc images (VIDEO_TS folders) for the creation of DVD-Video titles
Enables the creation and manipulation of all industry standard file systems and file extensions including ISO, UDF, Rock Ridge and Joliet
Fast virtual image building requiring less than 5% of the total image size to record
Direct-to-disc recording of files to UDF volumes
Recorder Support:
Supports all of the latest CD and DVD recordable drives as well as most legacy devices
Supports jukeboxes and media changers
Automatically initiates support for new recorders (automatic drive recognition) without requiring driver or configuration file updates
Supports test writing, CD and DVD recording speed setting, C2 error checking, multi-session disc creation, disc formatting and other advanced recorder features
Enables all recording methods including track-at-once, disc-at-once, session-at-once, raw recording and fixed and variable packet writing
Provides the capability to extract data and audio tracks (ripping)
Allows direct disc-to-disc CD and DVD copying
GEAR PRO UNIX Products
Interested in our UNIX Software?
To purchase GEAR PRO UNIX, please contact sales@gearsoftware.com