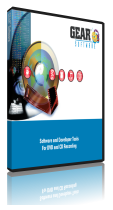 GEAR PRO UNIX
Solaris x86/SPARC, IBM AIX, HPUX, SGI Irix
and Tru64 Digital UNIX
As the most comprehensive DVD/CD-Recording software package for professionals, GEAR PRO UNIX incorporates the latest DVD/CD-Recordable technology for:
Imaging, Mission Critical Archiving
CAD/CAM and Graphics Storage
Title Development, and Pre-master Testing
Professional CD and DVD Recording Capability

Command-Line and Graphical User Interface
Use the command-line interface for direct control, or the GUI for quick drag-and-drop projects.

Duplicate CDs and DVDs
Create inexpensive duplication workstations to accurately format masters for fast mass replication. Match your master precisely!


Automate routine tasks
Automate repetitive tasks and unattended recording jobs by using command scripts or batch files.


Index disc projects with many files
Optimize the disc file system to index projects with many files. Access files when you want them.
With an option of command line control for batch file and scripting jobs, or an easy-to-navigate graphical user interface for routine projects, GEAR easily and cost effectively stores text, large data sets, software, databases, audio/video files and back-up information to DVD or CD. GEAR PRO UNIX supports a wide range of IDE, USB and (SCSI) recorders for DVD-R/-RW/+R/+RW/DVD-RAM, CD-R(W). GEAR's newest UNIX release offers both single and double-layer (DL) media support, along with the ability to master images for DVD-5, DVD-9, DVD-18.
GEAR generates on all major industry formats including RockRidge and operates on all recorders. And it's designed for easy installation and use.
ARCHIVING SPEED...100% DATA INTEGRITY
GEAR PRO UNIX provides the fastest virtual formatting speeds and includes support up to ISO Level 3 along with complete RockRidge extension and mapping support to 8.3 file names for cross platform readability. Features such as post gap writing on all recorders, universal multi session and incremental writing, full error code handling and device testing, and full verification of formatted data earn GEAR the highest marks in data integrity and readability. GEAR incorporates fast data transfer rates and handles large numbers of files used in applications such as routine Back-up, Imaging, HSM and COLD. And with enhanced caching and memory use, data transfer rates on even the fastest drivers are optimized.
WIDEST MULTIMEDIA FORMAT SUPPORT
GEAR allows you to master virtually any CD-ROM format. Formatting engines include DA,XA,XA, interleaving, CD enhanced and Mixed mode. In addition, users have the ability to master any professional multimedia authored file such as MPEG, CD-I, Video-CD, And Game Formats. In addition to detailed volume descriptor editing, the advanced user defined disk properties can be edited to cut virtually any multimedia CD format. GEAR is continually adding new CD formatting engines and advanced features including future support for Video CD 2.0, PQ and audio index editing support.
MULTI-PLATTER JUKEBOX SUPPORT
Besides desktop CD-Recorders, GEAR supports multi platter systems such as Pioneer, Kodak, ASM and others. Unattended mastering for multiple copy replication and integration with third party multi platter file systems allow data storage professionals to use GEAR in networked, multi-user, and data retrieval environments.
FIRST TO MARKET...UNMATCHED EXPERIENCE
With over 20 years of experience in developing professional pre-mastering and mastering software, GEAR continually sets the standard by being the first to support new formatting standards, recorders and functionality. GEAR is the CD-R software of choice for OEM's, data storage professionals, multimedia developers and service bureaus. In fact, GEAR was the first to support virtual formatting and XA interleaving. And it is the only Orange Book Multi-Session product with cross platform capabilities. Looking for a DVD/CD-R software solution that will meet your demanding data storage and title development needs? Look to GEAR...the DVD/CD-R solution you can count on. Please visit our GEAR Compatibility Database for compatibility information about GEAR PRO UNIX.
GEAR PRO UNIX Products
Interested in our UNIX Software?
To purchase GEAR PRO UNIX, please contact sales@gearsoftware.com