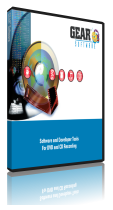 GEAR PRO UNIX
Platforms: Solaris x86, Solaris Sparc, IBM AIX and HP UX
As the most comprehensive DVD/CD-Recording software package for professionals, GEAR PRO UNIX incorporates the latest DVD/CD-Recordable technology for:
Imaging, Mission Critical Archiving
CAD/CAM and Graphics Storage
Title Development, and Pre-master Testing
Professional CD and DVD Recording Capability

Command-Line and Graphical User Interface
Use the command-line interface for direct control, or the GUI for quick drag-and-drop projects.

Duplicate CDs and DVDs
Create inexpensive duplication workstations to accurately format masters for fast mass replication. Match your master precisely!


Automate routine tasks
Automate repetitive tasks and unattended recording jobs by using command scripts or batch files.


Index disc projects with many files
Optimize the disc file system to index projects with many files. Access files when you want them.
A Graphical User Interface for SGI Irix, IBM AIX, Compac Tru64, and Linux. The GUI supports easy drag and drop of files and directories into the GEAR image.
Creation of DVD volumes in ISO 9660 + Rock Ridge format for recording to DVD-R(W), DVD+R(W) and DVD-RAM drives up to 4.7 GB.
Supports IDE DVD recorders
NEW in version 4.12: Support for IDE-SCSI converter cards. This will allow you to use IDE/ATAPI recorders on your UNIX System. In particular, the GEAR UNIX INTERFACE CARD in combination with GEAR PRO UNIX 4.12 allows the seamless use of IDE/ATAPI recorders including: CD-RW, DVD-RW, DVD+RW and DVD-RAM. Preliminary testing has also shown GEAR PRO UNIX 4.12 to be compatible with the IDE-SCSI converters from the following companies: ACARD & I/O Data.
NEW in version 4.12: Support for DVD+RW drives for writing DVD images (requiring a IDE-SCSI converter card). DVD+RW and DVD-RAM media are overwritable media, and therefore can always be overwritten with a new image without erasing the media. Blank DVD+RW media first have to be formatted (once) with the FORMAT command, before they can be used for writing. For writing to DVD+RW and DVD-RAM media, GEAR supports a disc-at-once write method (writing the complete image to the disc uninterrupted).
Creation of CD volumes for CD-ROM ISO 9660, Rockridge, CD-ROM XA, CD Audio and Mixed-mode formats. File names up to 256 for Rockridge and up to 64 for ISO 9660. Directory nesting up to 24 levels. Rock Ridge support for links, pipes, device special files, etc with permission and group handling.
Up-to-date recorder support: CD-R and CD-RW, DVD-R(W), DVD+RW and DVD-RAM.
COPYCD function for easy copying of CDs (CopyCD button available in the GUI).
Appending data to multi-session CDs with session selection. Full Orange Book multi-session support.
GEAR PRO UNIX Products
Interested in our UNIX Software?
To purchase GEAR PRO UNIX, please contact sales@gearsoftware.com