How to Encode Video to MPEG-1 for Video CD (VCD )
In order to make a Video CD (VCD) disc from your captured video files, you must first encode the video into the appropriate format. GEAR Video makes it easy.
To encode your DV video, DivX, or DVR-MS files to MPEG-1 format for VCD, select "Encode Video" from the Encode menu. This will bring up the Video Encoder window...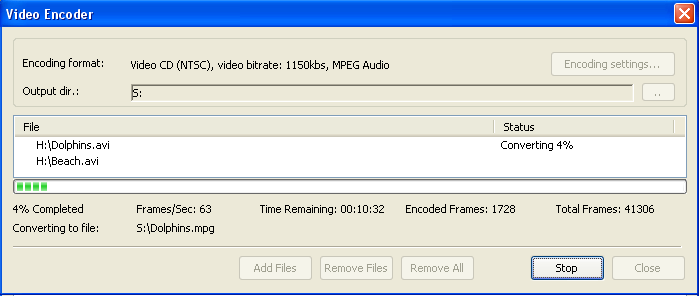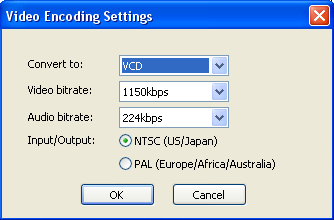 Click the "Encoding Settings" button to choose the disc format you wish to encode for (VCD, SVCD, or DVD-Video), change the output directory to store the encoded files, or to change the encoding bitrate.


Click the "Add Files" button to find and add files to the list of files to be encoded. When you are ready, click the "Convert" button. The status indicated in the lower left corner will show you that the files are being converted. A progress indicator will show a green line in the bar along the bottom of the window. When the green line reaches the right side of the bar, and the status goes to "Idle", the encoding is finished.

Technical Details
The details of GEAR Video's encoder are described below, but if you are not so technically inclined, don't worry about it, you can skip the details. As long as you choose the appropriate disc type when you encode, your video will be ready to use when you author a VCD, SVCD, or DVD-Video.

Encoding video for a Video CD
GEAR creates VCD titles that support the VCD 2.0 specification, which supports playback control (PBC). A VCD requires MPEG-1 video encoded at a resolution of 352 x 288 for PAL (the European video standard), and 352x240 NTSC (the US video standard). The video is encoded with constant bitrate (CBR), which means that every frame is encoded with the same number of bits. A bitrate of 1151 kbps results in video quality that is roughly equivalent to VHS tape. Video quality can suffer when there is a lot of detail or movement, as the VCD video standard does not have enough bandwidth to sufficiently encode the details. Audio must be encoded with MPEG-1, Layer 2, at 224 kbps. You can fit about 69 minutes of VCD content on a standard 80 minute (700 MB) CD-R or CD-RW.