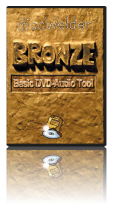 Minnetonka discWelder and Fast Edit
Platform:

Windows Vista / Windows XP
Minnetonka Audio Software is the world's leading developer of audio encoding and DVD-Audio authoring software. The revolutionary discWelder line of DVD-Audio formatting and imaging tools is the standard for authoring in this new high fidelity delivery format.
In a world where software manufacturers race to fill your screen with hundreds of "features" that you will never use, Fast Edit is a refreshing break from the norm. Fast Edit gives you the features you really need, in an uncluttered, straight-forward layout.

GEAR is the 'CD and DVD burning engine' in Minnetonka discWelder. GEAR customers are entitled to preferred pricing on Minnetonka Audio's great software solutions.
Contact sales@gearsoftware.com and GEAR will send you a coupon code worth 10% off the price of Minnetonka Audio software products.
discWelder Bronze Features:
Easy to use, drag and drop interface
Burns compliant DVD-Audio discs, playable on most home DVD-Audio players
Imports source files in .WAV and AIFF formats
Full support for linear PCM (16 to 24 bits, 44.1 to 192 kHz) in DVD-Audio
Supports 6 channel surround without data packing up to 24 bit, 48 kHz
ReSolution™ feature resamples 5.1 surround source files from 96kHz to 48kHz and 88.2kHz files to 44.1kHz
Support for gapless playback between tracks (linear PCM only)
Number of groups/ number of tracks: 1/99
discWelder Steel Features:
Easy to use, drag and drop interface
Burns compliant DVD-Audio discs, playable on most home DVD-Audio players
Imports source files in .WAV and AIFF formats
Full support for linear PCM (16 to 24 bits, 44.1 to 192 kHz) in DVD-Audio
Supports 6 channel surround without data packing up to 24 bit, 48 kHz
ReSolution™ feature resamples 5.1 surround source files from 96kHz to 48kHz and 88.2kHz files to 44.1kHz
Support for gapless playback between tracks (linear PCM only)
Number of groups/ number of tracks: 9/99
Slide show screen graphics: One per track
Creation of onscreen menus for disc navigation: Auto-generated
Menu background graphic
Dual layer burning (on supported recorders)
User-defined stereo downmix settings
Hidden "bonus" track creation
AutoMirror™ allows creation of DVD-Audio/Video Universal discs, allowing playback in standard DVD-Video players: Optional
discWelder Chrome II Features:
Easy to use, drag and drop interface
Burns compliant DVD-Audio discs, playable on most home DVD-Audio players
Imports source files in .WAV and AIFF formats
Full support for linear PCM (16 to 24 bits, 44.1 to 192 kHz) in DVD-Audio
Supports 6 channel surround without data packing up to 24 bit, 48 kHz
ReSolution™ feature resamples 5.1 surround source files from 96kHz to 48kHz and 88.2kHz files to 44.1kHz
Support for gapless playback between tracks (linear PCM only)
Number of groups/ number of tracks: 9/99
Slide show screen graphics: One per track
Creation of onscreen menus for disc navigation: Auto-generated
Menu background graphic
Dual layer burning (on supported recorders)
User-defined stereo downmix settings
Hidden "bonus" track creation
AutoMirror™ allows creation of DVD-Audio/Video Universal discs, allowing playback in standard DVD-Video players
Import VIDEO_TS for adding video zone to DVD-Audio disc
Output to DLT tape for mass DVD replication
DSD import and conversion to high resolution PCM
Support for CPPM copy protection system
Support for addition of DVD-ROM content
Active menu
Motion menu background
Startup logo
Video title linking to imported video (play video from DVD-A menu)
PGC blocks allow two soundstreams per track e.g. stereo and surround
Track points for both PCM and MLP
Fast Edit Features:
Non-destructive editing
Edit History
Ultra-fast cut-and-paste
Manual Crossfade
Sample-accurate editing
Reversal
Overlays
Gearshift
Fade-in and Fade-out
Gain Change / Normalize
Custom fades
Sound Catalog
Markers
Playlist Editor
You may also be interested in: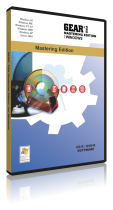 GEAR PRO Mastering
Convert CDs and DVDs to DDP images
Duplicate CDs and DVDs
Record a project to multiple drives
Automate routine tasks
Control file system formatting